< Back to Frank Lloyd Wright Collection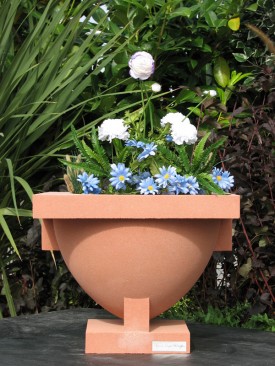 Downloadable Files
The product details are available in Adobe Acrobat PDF format. Select the link below.
Westcott House Vase PDF
Westcott House Vase CAD
Frank Lloyd Wright Collection
Burton J. Westcott House Springfield, Ohio
Frank Lloyd Wright Architect – Oak Park, Illinois
This was the largest planter Frank Lloyd Wright designed. The enormous originals dominate the front of the Westcott house in Springfield, Ohio. Nichols Bros. Stoneworks produces a 1/2 scale model of the original  34 1/2 inch diameter, as well as a 48 inch and a 20 1/2 inch size.
Please email or call us for prices and freight charges.
sales@nicholsbros.com / (800) 483-5720
Available Colors:





Westcott House Vase - Available Sizes:
Top
Height
Bottom
Weight
20 1/2 x 20 1/2
17
10 3/4 x 10 3/4
230
34 1/2 x 34 1/2
28 1/2
18 x 18
800
48 x 48
39 1/2
25 1/4 x 25 1/4
1500