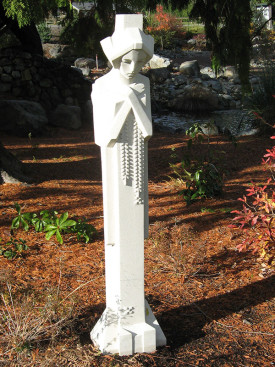 Downloadable Files
The product details are available in Adobe Acrobat PDF format. Select the link below.
Midway Gardens Sprite PDF
Frank Lloyd Wright Collection
Authenticated by the Frank Lloyd Wright Foundation, Full Scale Reproductions of the Original Sculptures Cast In Reconstituted Stone
This is a full-scale reproduction of the Midway Gardens Sprite, the result of collaboration between Frank Lloyd Wright and Alfonso Inanelli. Dozens of these sculptures adorned the walls of the massive Midway Gardens complex in Chicago from 1913-1929. The full size Sprite weighs 360 lbs.
Please email or call us for prices and freight charges.
sales@nicholsbros.com / (800) 483-5720
Available Colors:





Midway Gardens Sprite - Dimensions:
Height
Weight
66"
300