< Back to Frank Lloyd Wright Collection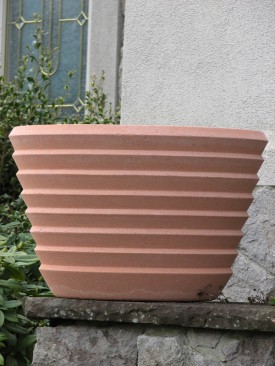 Downloadable Files
The product details are available in Adobe Acrobat PDF format. Select the link below.
Johnson Wax Building PDF
Johnson Wax Building Vase CAD
Frank Lloyd Wright Collection
Johnson Wax Administration Building
Racine, Wisconsin
Frank Lloyd Wright Architect
Taliesin, Wisconsin
Built during the depths of the depression, 1936, the Johnson Wax Administration Building features this elaborate designed planter, as well as its famous dendriform columns. Nichols Bros. Stoneworks recently produced several large, 48-inch diameter, Johnson Wax Building vases that are on site at the building today. Two smaller sizes are available, a 36-inch and a 24-inch.
Please email or call us for prices and freight charges.
sales@nicholsbros.com / (800) 483-5720
Available Colors:





Johnson Wax Building Vase - Available Sizes:
Top
Height
Bottom
Weight
24
16
15
200
36
24
22 1/2
680
48
32
30
1300