< Back to Frank Lloyd Wright Collection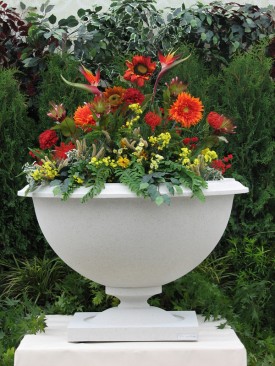 Downloadable Files
The product details are available in Adobe Acrobat PDF format. Select the link below.
Heller House PDF
Heller House Vase CAD
Frank Lloyd Wright Collection
Isidore Heller House Chicago, Illinois
Frank Lloyd Wright Architect
Oak Park, Illinois
One of Frank Lloyd Wright's earliest designs was this deep bowl planter for Isidore Heller of Chicago in 1896. The small, medium and large sizes are 22″, 33″ and 44″ diameters, respectively.
Please email or call us for prices and freight charges.
sales@nicholsbros.com / (800) 483-5720
Available Colors:





Heller House Vase - Available Sizes:
Top
Height
Bottom
Weight
22
15
12 x 12
200
33
22 1/2
18 x 18
420
44
30
24 x 24
700