< Back to Frank Lloyd Wright Collection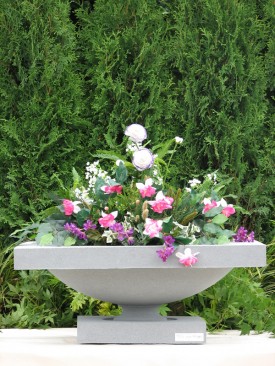 Downloadable Files
The product details are available in Adobe Acrobat PDF format. Select the link below.
Robie House Vase PDF
Robie House Vase CAD
Frank Lloyd Wright Collection
Frederick C. Robie House Chicago, Illinois
Frank Lloyd Wright Architect
Oak Park, Illinois
This vase, from the Frederick C. Robie house in Chicago, is a classic example of Frank Lloyd Wright's architectural design, utilizing a circle within a square, and exemplifying the prairie style. Reproduced in three sizes, the full-scale original 60-inch, a 45-inch and a 1/2 scale, 30-inch size.
Please email or call us for prices and freight charges.
sales@nicholsbros.com / (800) 483-5720
Available Colors:





Robie House Vase - Available Sizes:
Top
Height
Bottom
Weight
30 x 30
12
15 3/4 x 15 3/4
280
45 x 45
18
23 5/8 x 23 5/8
950
60 x 60
24
31 1/2 x 31 1/2
2000