< Back to Frank Lloyd Wright Collection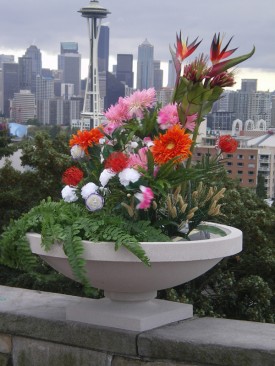 Downloadable Files
The product details are available in Adobe Acrobat PDF format. Select the link below.
Dana House Vase PDF
Dana House Vase CAD
Frank Lloyd Wright Collection
Susan Lawrence Dana House Springfield, Illinois
Frank Lloyd Wright Architect – Oak Park, Illinois
A classic example of Wright's early prairie style, these planters sit very prominently in front of the Dana-Thomas residence, just a few blocks from the Illinois state capitol building. The original vases are quite large, measuring over 5 1/2 feet in diameter. Nichols Bros. Stoneworks casts a 3/4 scale model at 50 1/4″, a 1//2 scale at 33 1/2″ and a 1/3 scale size, 22 3/8″ in diameter.
Please email or call us for prices and freight charges.
sales@nicholsbros.com / (800) 483-5720
Available Colors:





Dana House Vase - Available Sizes:
Top
Height
Bottom
Weight
22 3/8
9
9 1/8 x 9 1/8
100
33 1/2
13 1/2
13 3/4 x 13 3/4
230
50 1/4
20 1/4
20 3/8 x 20 3/8
600